WEBINAR: Channel Technology and Automation
Do these challenges sound familiar?
Too much time spent working on manual processes
Disparate systems housing channel and sales data
Poor partner experience within your channel systems
Channel systems without reporting or usage
In our years of channel experience, we have heard just about every channel technology challenge and we have helped our clients alleviate each of them. Successful channel strategies involve the right process combined with the best technology automation mix.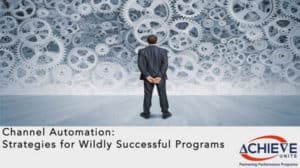 In this short 30-minute recorded webinar, we will introduce you to the Achieve Channel Technology Stack, walk through the automation maturity progression, and give you a strategy for successful channel automation implementation.
Channel Technology and Automation