Help Us Celebrate Ron Rohner!
Ron receives the AchieveUnite Lifetime Achievement Award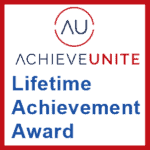 "Ron Rohner is a mentor to me personally, a trusted advisor to our company, a business partner, and a dear friend. We're honored to offer him our first LifeTime Achievement Award." – Theresa Caragol
Ron Rohner, who some refer to as the Godfather of Channel is a true professional, and one of the early scholars and thought leaders in the channel.
He coined many terms that people now use as industry-standard – including the partner business proposition.  Ron is known for his extraordinary selflessness, low ego, and true respect for industry colleagues and the facts.
He built Rohner & Associates as a top channel consulting firm of industry professionals, and a company where thought leaders could work there, then return to corporate roles smarter than before working at his firm.
Please help us celebrate Ron's impressive contributions to the channel by adding your favorite memories of Ron, thoughts, and well-wishes here. We will present everyone's comments to Ron during the award presentation.