AchieveUnite's Channel Strategy in a Challenger Company Series is a three-part series aiming to help you overcome the challenge and step into transformation. 
"However beautiful the strategy, you should occasionally look at the results." – Winston Churchill
Welcome back to our 3-part series on Channel Strategy in a challenger company. In part 3 of our series the culmination of the challenge and the plan come together to provide us the result. The path we've built now arrives at our destination!
Now that you're at the destination let's talk about the audience there—the partners. So, what's in it for your partners? Why have they (or should they) partner with your challenger company? You have either built, or need to build, a sustained value for your partner. This will include a variety of focus-areas:
Brand value & company positioning– How does your brand value and company positioning positively affect the goals of your partner? What winning elements does your brand bring to the table?
Products, solutions & services– What niche areas or missing links do your products, solutions & services fill in for the partner? How do your products complement their products and offerings?
Overall profitability– What additional revenue streams do you provide to your partner? How does your offering complement other areas of potential revenue increase? Analyze their revenue goals, projected margin compared to other margin percentages they bring in.
Ease of service turn up, access, and process- How efficiently and painlessly can you turn up service at the partner and their customers? Make the process as simple, quick and turn-key as possible. Also consider the partners' involvement in these activities. Do they have the ability to also improve profitability through professional services of their own?
Partner program elements– What elements set you apart from other companies? Consider the marketing resources offered, technology portals, partner tiers, etc. All of these elements play a factor in the value of your partnership.
Demand gen/sales teaming– How will you support your partner in demand generation activities? How will your organization's sales model align with their sales structure? Consider how the compensation models at the partner will ultimately filter down to the 'front lines.' Implementing a SPIFF or promotion can help accelerate the sales teaming.
Partner Enablement- In order to support sales and demand generation, ideally your partners will be enabled to make this a smooth success. What are your plans for enablement? How will you arm your partners to understand your value proposition and feel confident preaching that value to their customers? Develop a plan to engage the appropriate teams by providing education and tools. Please note that this is an area that is ever-changing and evolving, so be sure to treat it that way.
Partner Tools and Automation- Our world, more than ever, is becoming automated. How will you match this human need to your partner ecosystem? This is your turn to find technology partners that can help you automate your portals, tools, content and sales motions to make it as simple for your partners as possible.
Partner Trust- Trust is one thing that never goes away or changes. Earning it is a part of the process of bringing a partner on, but as the saying goes- it can take a long time to earn trust and one second to lose it. How do you keep that trust? Be sure to assign a point of contact for your partner- someone they trust. Through that relationship, set up frequent check-ins with candid conversations about not only the positive successes of the partnership but also the weaknesses and potential or current conflict faced. These check-ins will likely be with one point of contact at your partner but we recommend including many executive and management-level champions to ensure trust is built throughout their organizational leadership.
WIFM?
While providing the What's In It For Me? (WIFM) to the partner is one of the key elements, there are also other ingredients to ensure the result is an outcome that meets the taste of both parties. Can you demonstrate that you are a partner-oriented company? And your company is trustworthy when working with partners?  A partner centric DNA – means your company (as a vendor) is laser focused on building a world class partner experience:
Demonstrate that you as a vendor are laser focused on building your partners' revenue models: and you work and demonstrate your solution as a key part of a partner's strategy.
Ensure your Channel Executive and Channel Division are influencing your CEO and have a strong front and center seat at the executive table.
Help get your President/CEO super engaged with strategic partners, quoted in industry media and an authority on partnering, and trusted by the partner base.
Ensure your partner experience is consistent across the world; there is little to no direct sales and partner conflict.
Keep Track of the Scoreboard
Results and metrics are about as inseparable as LeBron James and Dwyane Wade in the Miami Heat days. But it can be daunting to determine which results are going to make it to the official partner scoreboard. Determine the right criteria to keep on-going track of your results.  As these, of course, will change over time remember to continuously update the info and utilize it with your partner check-point meetings. Consider tracking overall partner revenue, partner growth data, partner funnel statistics, geographic partner data, partner type/level (along with average discounts) and your overall incentive program data and metrics. Don't forget to create a clean and concise dashboard for these metrics so the presentation both internally and externally to the partner is a slam-dunk.
Building a World Class Partner Experience:
Now that we have a dashboard created with results and metrics, we can surely start to think about on-going executive sponsorship. Leadership will set the stage for how the partnership develops, how it is perceived both internally and externally, and provide guidance and drive to the teams who ignite the flame of continued success for the partnership. It is important and relevant to continue to win executive sponsorship– both short-term and long-term.  Our team at AchieveUnite is frequently putting plans in place with our clients to help them do just that.  In fact, below is a checklist we've developed to keep one step ahead on monitoring executive sponsorship.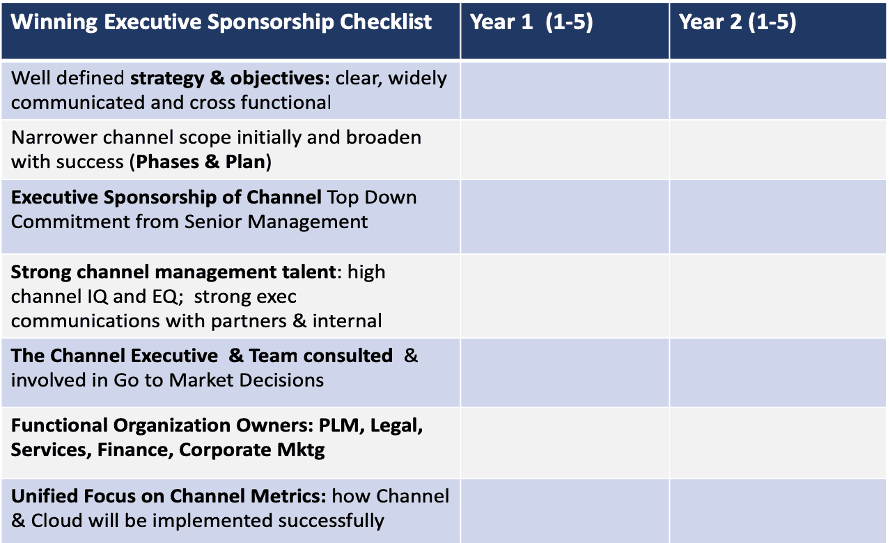 We hope throughout this 3-part series we have been able to help provide challenger organizations with insight and tools to developing a channel strategy that works for them.  We've drawn a path starting with conquering the challenge ahead, continuing with instituting a concrete plan, and arriving at the destination to track the final result. The concepts and tools we have reviewed in this series are meant to serve as guidelines so use these as your call-to-action! Good luck, Challengers.
Ready to take the next steps to transform your channel strategy? Reach out to us today. We can help!