Channel Building Essentials: What you need to be successful in the Channel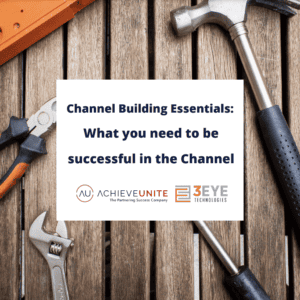 A recent study by CompTIA estimates that 85% of IT products and services sold within the US are purchased through the channel, which means no matter your size, the channel is critical to your business strategy.
In this webinar, Theresa Caragol, CEO & Founder of AchieveUnite, and Conor Macfarlane, President & CEO of 3Eye Technologies, explore the essential components of the most successful channels, and share how you can drive value and maximize revenue for you and your partners. They are joined by guest panelist Jason Turner, former Head of Global Channels for NetMotion Wireless (now a part of Absolute Software).
Topics include:
-Why Channel?
-How to determine where you are along your Channel journey
-The 5 Ps of Channel development
-Best practices and other things they aren't telling you
The tools you need to build a successful channel strategy.