WHO GIVES A CRAP? THEY DO.
This special Brands for Good also includes a podcast where our own Dana Citron sits down with Co-Founder Danny Alexander to uncover the motivation, strategy, and ultimate goal of Who Gives a Crap. We promise you'll leave with a new perspective on toilet paper and tangible ways to do good in your own business and community. Ready to hear more about Who Gives a Crap?
How this everyday item is spreading joy and creating community across the world
In this Brands for Good, we turn to Danny Alexander, Co-Founder of Who Gives a Crap, a business using environmentally friendly toilet paper to drive change and equality around the world. At Who Gives a Crap, they are successfully making a difference because they prioritize and genuinely invest in people.
Let's face it, over the last few months, toilet paper has been on your mind more than ever. You've worried about having enough. You've felt guilty buying a pack when your grocery restocked. You've thought of creative ways to extend the life of one roll. And you've talked endlessly about this essential item with your friends on every Skype call.
For Danny Alexander, Co-Founder of Who Gives a Crap, toilet paper has consumed his headspace and taken over his conversations for almost a decade. In 2012, Danny and his two co-founders, Simon Griffiths and Jehan Ratnatunga, decided to use toilet paper to spread joy and make our world better one roll at a time. Together, they launched Who Gives a Crap as a way to drive funds back to people to help build a more just and sustainable world.
Their first donation was $2,500, followed by a second donation of $30,000. Today, they have donated over $1.9 million dollars to charities such as Water-Aid who are focused on providing clean water and sanitation around the world.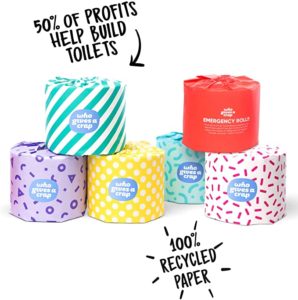 As a business that exists solely to have a positive impact, COVID-19 has created a lot of anxiety and concern as to how the team can best help and provide to those in need. In response to the COVID-19, the first thing the team did was to reach out to all of their partner organizations and ask, "How are you doing?" "What do you need?" "What can we do to help you?" They immediately donated $65,000 to their charity organizations across the world who are working to do front-line medical and hygiene work in vulnerable areas. They also donated 10,000 rolls of toilet paper to FoodBank Victoria in Melbourne who provides the elderly and the sick who cannot go to the grocery store with essential items.
At the end of the day, Danny and his team are focused on people far and near. Their goal is not to be a toilet paper provider; it is to spread joy and delight across the world. Danny is fueled by growing and investing in his team. They have provided 100 people with jobs to be able to provide for and take care of their families at home. Their team is united around a genuine vision and transparent values that make doing good, driving change, and spreading joy possible. When a team is truly connected and rallies around a culture, change happens. Doing good is not an expense, it is an investment.
What is AchieveUnite and Brands for Good?
AchieveUnite is a consulting and education company helping companies of all sizes generate maximum results from their channel and strategic alliance partner organizations.
As an organization built around deep expertise, we are at our core curious, active learners that constantly look for inspiration from other organizations doing great things. Our Brands for Good series came from our desire to share the impressive work we've seen organizations doing to build impressive businesses while giving back good into the world.
We hope you enjoy their stories and best practice strategies as much as we do, and find some inspiration for your own personal and professional lives along the way.