In today's Brands for Good feature we pass the mic over to Ingrid Sanden, Co-Founder of Boolean Girl, to talk about their incredible work to engage girls in computer science and engineering. Take it away Ingrid!
---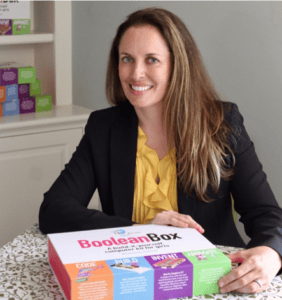 First, the good news: girls love coding and engineering.
Now, for the bad news: girls are underrepresented in computer sciences classes, majors, and careers in the United States. That's where Boolean Girl comes in. We're a non-profit whose mission is to engage girls and under-represented kids in grades three through eight with meaningful, hands-on instruction and sustained exposure to computer science and engineering in a collaborative and welcoming environment.
In 2014, Boolean Girl got its start in Arlington, Virginia. As we expanded, we paid attention to what the girls liked and what they didn't, and we slowly refined our content as we taught larger and larger groups, eventually reaching kids across the country.
Since those early days, we've taught thousands of girls in camps, schools and online, and we've found a couple of broad themes: girls tend to like story-based projects and character development, they tend to gravitate toward collaborative work, and they tend to be less interested in skill-based video games. So, we built our content around those interests to keep girls engaged and challenged.
Learning computer science, as you might guess, requires computers, and hauling computer equipment with specialized software from school to school is logistically complicated. Most schools have lost their computer labs, have spotty Wi-Fi, and don't even have enough power outlets. These complications led us to develop a portable, durable, convenient, self-contained computer kit called a Boolean Box. It's a build-it-yourself computer that contains everything kids need to code and build electrical engineering projects such as wires, buttons, resistors and a breadboard. It's Raspberry Pi-based and doesn't require Wi-Fi, providing a safe off-line option for our young users.
Kids love to use the Boolean Box in our classes, and many ask to take them home, so in 2016 we launched a successful Kickstarter and in 2017 began selling the kits across the globe. (It's sold for home use through a separate, for-profit entity called Boolean Girl Tech.) We continue to develop add-on products for the Boolean Box and look forward to introducing a sensor kit later in 2019.
We've gone from offering a beginner coding class to offering a robust set of programs that takes kids with no coding experience on a progressive learning path. Kids start with a drag-and-drop coding language called Scratch, and they progress to electrical engineering and eventually Python (a language used by technology professionals around the world).
We take a lot of pride in our commitment to providing our Boolean Girl crew long-term, sustained classes and lessons, whether they join us in a class or summer camp or online. Special events and workshops are a lot of fun and expose lots of kids to our programs, but what makes Boolean Girl unique is how our crew can move at their own pace, track their progress, and celebrate their achievements over time. Our proudest moments come when girls sign up for our advanced classes and continue their interest in computer science through high school and even college. We even have some of our crew come back and teach summer camp!
In 2018, we reached over 2400 girls, more than double the number we reached the prior year. As a non-profit, we've been able to raise money from corporate and individual sponsors. These donations allow us to reach more children from underserved and low-income communities, including boys in economically disadvantaged areas. One in three of our partner schools is in a low-income community, and 25% of the kids we reach come from low-income families.
The challenges remain. We have a list of schools in underserved communities, waiting to participate. If we can get in the door, the kids love our clubs (and so do their parents!) but navigating the unique access path for each school is time-consuming. We hope that with more donations we are able to reach out to more under-served schools, both in rural and urban areas.
In rural areas, where the population of trained technologists is smaller, qualified instructors are difficult to find and recruit. For this reason, we launched a new model in 2018 in which we train teachers how to teach coding. With a single donation, we kicked off a pilot program to provide skills to local teachers and create clubs in rural areas with great success. We are working hard to expand the "teach the teacher" program throughout 2020 and provide resources to more teachers across the country.
We appreciate the support we receive from individuals, other nonprofits, and corporations. It's easy to get involved with Boolean Girl, from hosting special events to sponsoring a club in your neighborhood. Check https://booleangirl.org/get-involved/ for more information.