Help Us Celebrate Bob O'Malley!
Bob receives the AchieveUnite Lifetime Achievement Award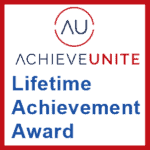 "Bob is a role model, a mentor, a trusted advisor, and I am eternally grateful for his guidance and time. We are proud to offer him the first AchieveUnite LifeTime Achievement Award from AchieveUnite."  – Theresa Caragol
Bob O'Malley is one of the most forward-thinking channel thought leaders in our industry.  He's a brilliant businessman, a phenomenal leader and human being, a great storyteller, and a teacher.
His deep-rooted values of trust and collaboration are seen with every interaction. He is constantly reading and ahead of his time with groundbreaking innovations and ideas.  Bob is dedicated to services, education, the development of others, and fostering collaboration between higher education and industry.
Please join us in celebrating Bob's long list of contributions to the channel.