Channel Foundations eBook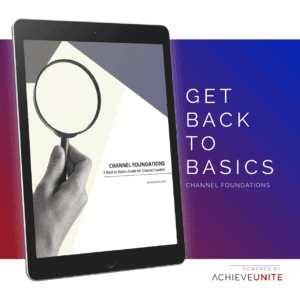 Partner programs. Incentives. Communications. Recruiting.
How do you tie it all together plus stay innovative in your quest to consistently move the needle?
At AchieveUnite, we've seen it all. From global organizations to small operations, it's never easy.
Yet, no matter your size or level of experience, some things never change. That's why we assembled this eBook. Sometimes you need to go back to basics and discover the simple foundational truths that never change.
We hope this eBook will be a valuable resource for those in organizations just getting into the channel, new to a channel role, or just looking to refresh on some time-tested principles about partnering success. Topics include:
What is a Channel Sales Strategy?
How do You Ensure your Channel Strategy is Included in Your Marketing Strategy?
How to Hire a Channel Strategy Consultant
How To Prepare Your Channel Strategy For The Next Gen Buyer
How To Recruit And Onboard Partners To Make Your Partner Program Thrive
Top Channel Terms, Acronyms, and Definitions
eBook will open in a new window for download. It may take a moment.